Tracking spiritual growth at Redeemer
Spurred by the Rise Campaign vision to raise up new leaders, Redeemer began working with the Barna Group in 2016 to help us better understand the "state of discipleship" at our church. We conducted extensive interviews with congregants and staff, and fielded a church-wide "spiritual health" survey in spring of 2017. The findings from 2017 helped to shape the initiative now known as Formation, and provided a baseline to track growth in the coming years. This past April we conducted a follow-up survey at our Downtown, East Side and West Side churches. The highlights below are based on the 2018 online survey of 1,425 adults (18 years and older) from the three Redeemer churches, including 1,211 members and regular attenders.
Areas of Growth
One of the central elements of the Formation initiative is equipping congregants in spiritual practices. In 2017-18 we focused on five "starter" practices of worship, devotions, hospitality, accountability and rest. Comparing the 2018 and baseline 2017 survey, we saw that the proportion of Redeemer congregants who report "very often" practicing devotions or studying the Bible rose from 35% to 61%; intentional rest rose from 15% to 26%; and service to the poor and marginalized of rose from 11% to 15%. The practice of hospitality remained static.
In addition, half of regular attendees and members think that Redeemer places "a top priority" on equipping congregants for spiritual growth, an increase of 10% (from 41% to 51%) from 2017.
Providing a Clearer Path for Spiritual Growth
Previous studies with Barna led us to conclude that providing a simpler, clearer path for spiritual formation could be helpful to congregants. One analogy was that programming at Redeemer felt like a 30-page diner menu, leaving congregants overwhelmed. Could we begin to move toward a "tasting menu" of carefully selected courses? While we didn't communicate a "tasting menu" publicly, behind the scenes we began aligning programming around five elements of spiritual growth and guiding people toward a "next step" wherever they were.
This is an area in which we'd like to continue improving, as 14% of respondents strongly agree that their next step for spiritual growth at Redeemer is clear to them. However, those who have experienced a lot of spiritual growth in the past year are more likely to agree with this statement.
Those who were clear about their next step named CG engagement (#1 for West Side and Downtown), accountability relationships (#1 for East Side), serving the community/others, and being more consistent in prayer.
Equipping Versus Engagement in Callings
As we approach the 2018-19 ministry year, our church leaders will be focusing more on equipping people to live out their callings — making disciples and bringing renewal in the areas of of neighborhood, relationships and work. We found that congregants are more likely to feel extremely or very well equipped to engage in internally oriented aspects of calling. Fewer feel equipped or engage in the outward-facing aspects of calling, especially around service and evangelism. However, those who experienced a lot of spiritual growth this past year were more likely to engage in callings "very often."
With the new ministry year upon us, we are looking forward to helping congregants engage in their callings, starting with a year-long sermon series called "Formed for the City." For the neighborhood calling, we are offering a Formed for Justice Conference this fall, followed by a Neighborhood Advocate Cohort pilot. In the area of relationships, we will have classes and cohorts to equip people in singleness, marriage and parenting. For the calling of work, we are planning faith and work classes. In 2019, we'll begin a Public Faith equipping season — which affects all spheres of life — culminating in a "Questioning Christianity" lecture series for our friends, neighbors and co-workers who don't believe as we do.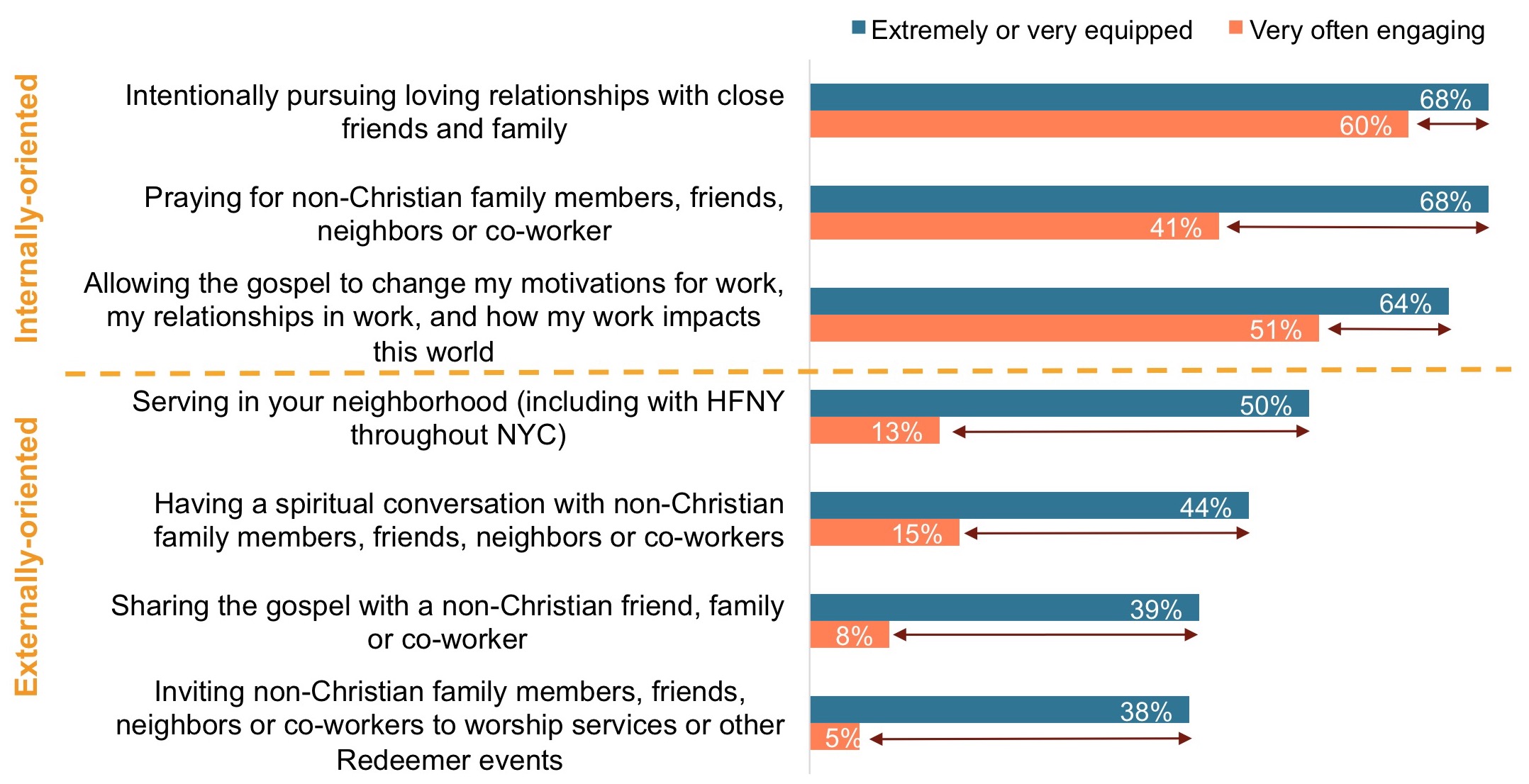 ---
Thank you for subscribing to the Redeemer Report. If you would like to support the work of Redeemer in NYC, please use the button below to make a gift.
Articles in this Issue