Grace and Race
---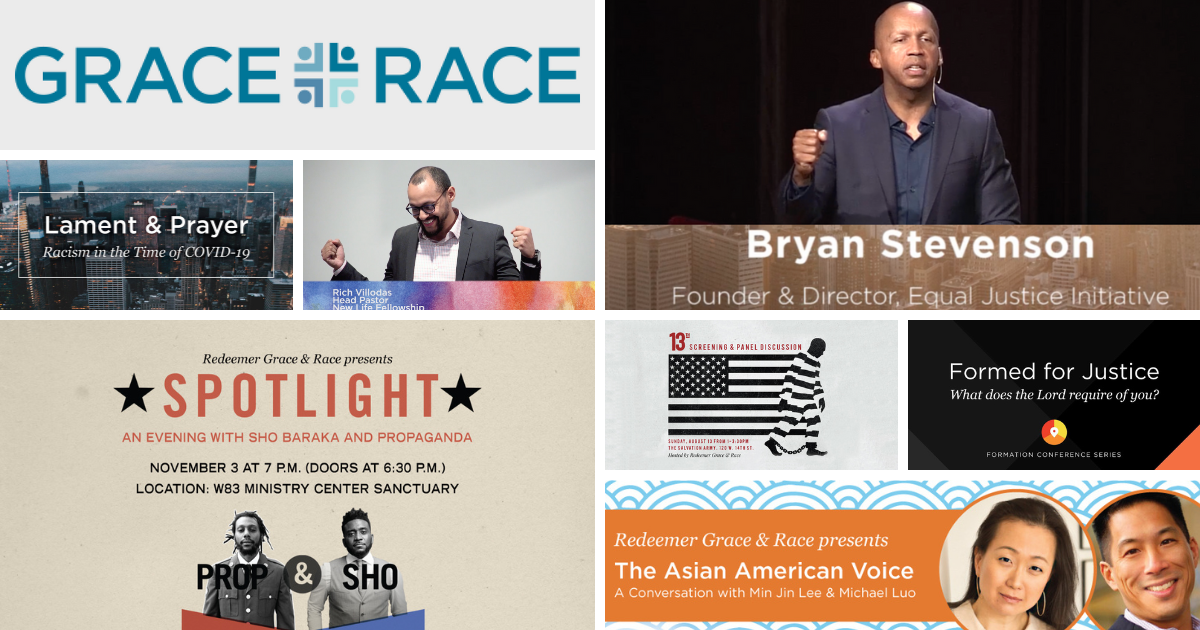 Grace and Race is going on a hiatus. We've loved serving you for seven years and hope to be active again soon.
About
At Redeemer, we seek to love and serve our city, not ourselves. This includes not only those who don't believe as we do, but the poor, the immigrant, the marginalized, and the other.

In Colossians 3:12-15, Paul exhorts believers to a deep and authentic unity. This is no general admonition to unity, but a specific admonition to unity where the natural barriers of race so clearly manifest themselves. Read in this way, this text brings home a powerful message to a church divided along the lines of race. The Gospel unites all of God's people, bringing them together into one Body, despite the divisions with which we live in a fallen world. When the gathered people of God reflect the power of the Gospel to transform all cultures and unite all peoples in the worship of their Creator and Savior, then the Gospel is powerfully represented and the Lord is greatly glorified.

Grace & Race existed as a group within Redeemer who sought to embrace the Gospel call to redeem relationships across ethnic/racial barriers by providing events and spaces for prayer, conversation, and the sharing of cultural goods across racial/ethnic lines.
— adapted from the PCA Pastoral Letter on Race, 2004
---
Connect with Hope for New York affiliates
—Defy Ventures provides opportunities for entrepreneurship, leadership, and career development to men and women with criminal histories.
—Exodus Transitional Community provides supportive services to formerly incarcerated men and women to help them reintegrate into their communities, achieve social and economic well-being, and break the cycle of recidivism.
—Open Hands Legal Services brings free legal services directly to community members at host non-profit organizations throughout the city.
---
Past Events

Use this liturgy in your own time of prayer and lament, individually or in community.
As we've mourned and grieved the deaths of Ahmaud Arbery, Breonna Taylor, and George Floyd, we have become more and more familiar with the act of lament. Pastor David Swanson says, "I've come to think of lament as a sort of limp. It does not keep us from moving forward, from joining the struggle for freedom. But neither does it absolve or sooth us. Lament is always there. It serves not as a moment or a season but an ongoing posture for the previously deceived, the still complicit, the too-slowly waking up."

The evening of lament included several prayers and scripture readings as we cried out to God to meet us in our anguish. In addition to the liturgy and video, we invite you to please read Grace and Race's recent statement concerning these most recent, heinous deaths.
---

Monday, April 20, 2020 via Zoom
Use this liturgy in your own time of prayer and lament.
Lament is one of the most common forms of prayer found in the Bible, from the Psalms to the book of Lamentations to the Prophets to Jesus Christ himself. Unfortunately, it is a form of prayer that seems to be neglected by many of us in the West as we instead turn our focus toward prayers that lead to solutions, prayers that lead to explanations, or prayers that lead to personal comfort. Prayers of lament are chances for us to commune with our Father, to cry out to him with frustration, anger, hurt, pain, and sorrow—and to ask nothing of Him other than "Please hear our cries and meet us in our grief." In the face of profound suffering and injustice, a prayer of lament brings us deeper into that suffering and injustice as we confess our own roles, our own abandonment, our own disregard. During this time of lament, we gathered together to cry out to God during this unprecedented crisis our city, country, and world face, and to specifically lament the racism and racial disparities that have grown in light of COVID-19. Our Asian brothers and sisters suffer from hate-filled attacks and speech and our African-American and Latino brothers and sisters face the grim reality that this virus is twice as deadly for their communities as for whites in New York City. So, on this evening, we joined together for a guided time of prayer to lament and grieve these jarring truths as we cry out to our God in the face of these injustices.


The evening included a reading of Psalm 6; a prayer of lament for the racial disparities in the Latino and black communities of New York City; a reading and reflection on Psalm 77; prayers of lament for hate-filled speech and attacks as well as acknowledging the lack of discipleship from churches in the face of racism; a prayer of confession and repentance; a cry to God to bring a swift end to COVID-19; and a reading of Psalm 125.For further reading related to these lamentable realities, consider spending some time with the following:
---

Wednesday, May 22, 2019 at W83 Ministry Center, 150 West 83rd St.

For this event, we explored the Asian American experience and how Asian Americans may possess a unique perspective to offer in dialogue and movements on racial justice. Amidst the many conversations surrounding racial issues in America, the experiences, concerns and role of Asian Americans are often unclear and invisible, even among those in the Asian American community.
Min Jin Lee, author of Pachinko and Free Food for Millionaires, and Michael Luo, editor of newyorker.com discussed the uniqueness of the Asian American voice and they shared from their personal and professional experience.
---

November 16-17, 2018 at the Ethical Culture Center 2 W. 64th St., New York, NY
Throughout the Bible, we learn that God is a God of justice, and that through the power of the gospel, Christians are called to live in ways that reflect this justice. In fact, scripture tells us that one of the most powerful ways that the church embodies the gospel is through the love and unity we demonstrate across economic, cultural and racial divides (Col 3:12-15). What does this look like in our fractured society? How can we stay hopeful when it seems we are more divided than ever?
---
SPOTLIGHT: An Evening with Sho Baraka and Propaganda on November 3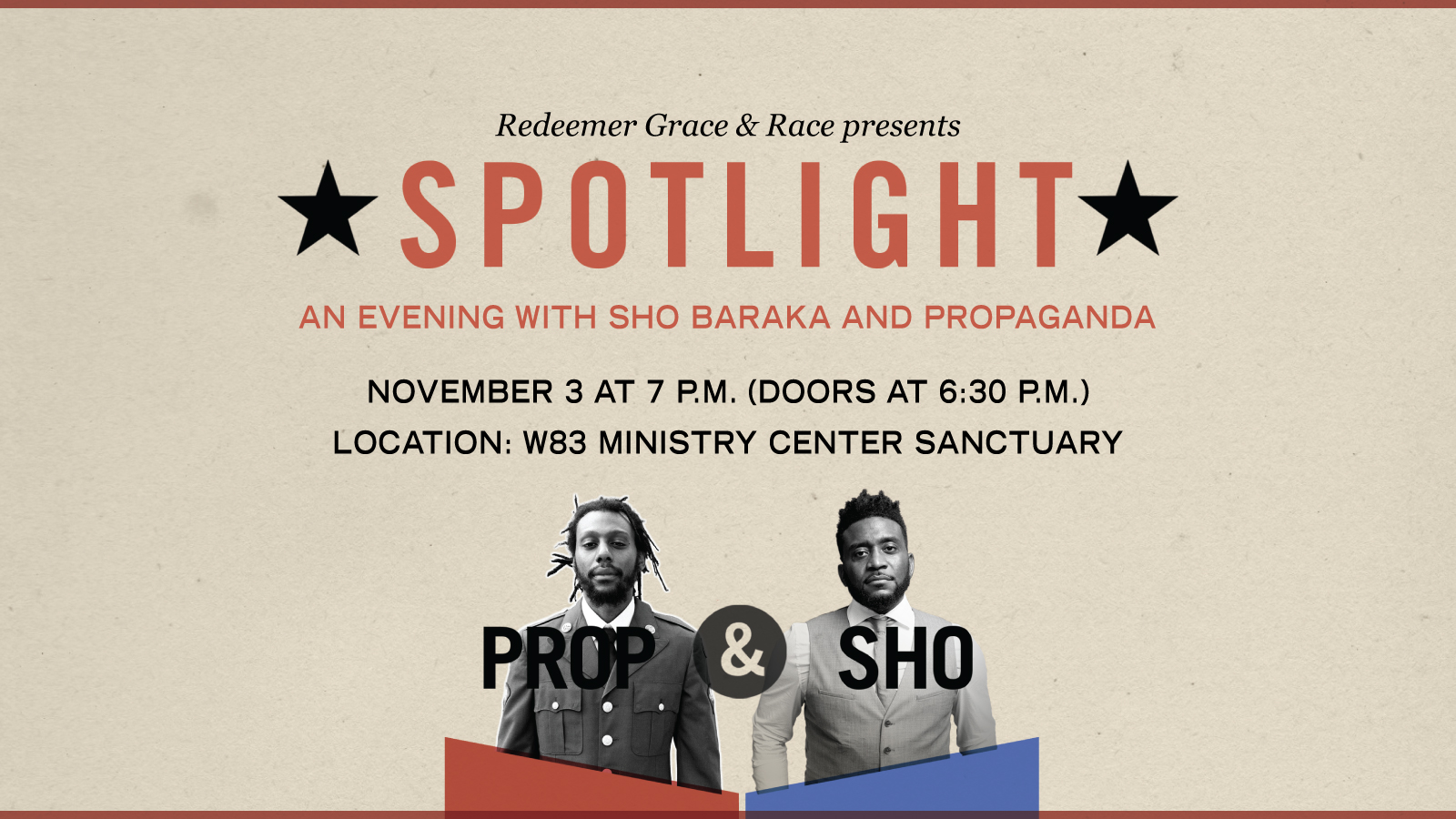 ---
13th Documentary Screening & Panel Discussion on August 13, 2017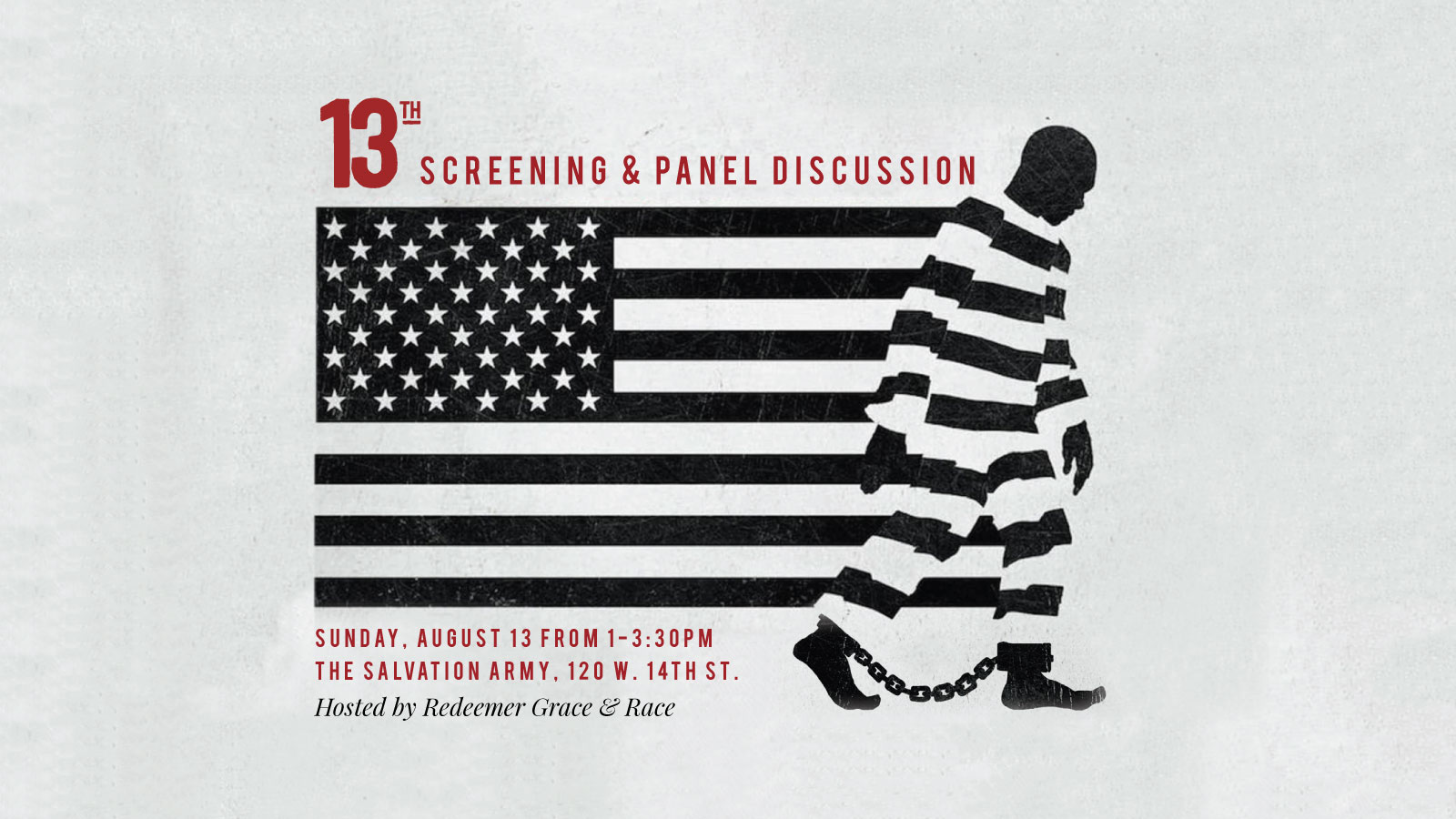 ---
Workshop: What Racial Reconciliation Requires on January 12, 2017
Rich Villodas - Part 1
Rich Villodas - Part 2
---
Grace, Justice, & Mercy: An Evening with Bryan Stevenson & Tim Keller on May 21, 2016
Q&A with Bryan Stevenson & Rev. Tim Keller moderated by Pamela Brown-Peterside
—Hope after Prison workshop on June 8, 2016: Join Hope for New York affiliates (Defy Ventures, Exodus Transitional Community, and Open Hands Legal Services) for an exploration and discussion of the realities and challenges formerly incarcerated individuals face as they return to life after prison.
—"Life After Life in Prison" on June 15, 2016: Sara Bennett, a criminal defense attorney for thirty years, started photographing four of the women she met to give a face to "long-termers," each having spent 17-35 years in a New York State maximum security prison. Bennett's images give a glimpse of their dignity, patience and perseverance as they rebuild their lives in the face of societal hurdles. Reception June 15, 6:30 to 8:30 p.m. The exhibit runs through July 17.
---
Grace & Race: Why Race Matters to God and What That Means for Us
Watch Abe Cho's talk on Jan 14, 2016
---
City Walks
March 12
Hosted by Hope for New York affiliates and CTC church plants.
Did you know that Redeemer City to City and Hope for New York have over 100 affiliated church plants and nonprofits throughout the five boroughs? On these unique walking tours, you will hear their stories and process the history of a neighborhood, its brokenness, its beauty, and its systemic issues related to poverty and race together. This is primarily an opportunity to learn about a NYC neighborhood, but there will be ways to connect with what God is doing in the neighborhood through Redeemer's affiliates.
Co-sponsored by Redeemer City to City and Hope for New York.