GRACE & RACE
If you would like to subscribe to the Grace & Race mailing list for upcoming events and resources, click here.
Questions? contact [email protected].
---
"Here there is no Greek or Jew, circumcised or uncircumcised, barbarian, Scythian, slave or free, but Christ is all, and is in all. Therefore, as God's chosen people, holy and dearly loved, clothe yourselves with compassion, kindness, humility, gentleness and patience, Bear with each other and forgive whatever grievances you may have against one another. Forgive as the Lord forgave you. And over all these virtues put on love, which binds them all together in perfect unity. Let the peace of Christ rule in your hearts, since as members of one body you were called to peace."
—Colossians 3:12-15
---

Redeemer Grace & Race is excited to present an event focused on exploring the Asian American experience and how Asian Americans may possess a unique perspective to offer in dialogue and movements on racial justice. Amidst the many conversations surrounding racial issues in America, the experiences, concerns and role of Asian Americans are often unclear and invisible, even among those in the Asian American community.
Min Jin Lee, author of Pachinko and Free Food for Millionaires, and Michael Luo, editor of newyorker.com, will discuss the uniqueness of the Asian American voice as they share from their personal and professional experience.
Date: Wednesday, May 22, 2019
Venue: W83 Ministry Center, 150 West 83rd St.
Event Time: 7 PM-9 PM (doors open at 6:30 PM)
Ticket Price: $10
MIN JIN LEE is a recipient of fellowships in Fiction from the Guggenheim Foundation (2018), the Radcliffe Institute of Advanced Study at Harvard (2018-2019), and the New York Foundation for the Arts (2000). Her novel Pachinko (2017) was a finalist for the National Book Award for Fiction, a runner-up for the Dayton Literary Peace Prize, winner of the Medici Book Club Prize, and a New York Times 10 Best Books of 2017.
MICHAEL LUO is the editor of newyorker.com and oversees the magazine's digital presence across all platforms. Previously, he spent thirteen years at The New York Times, where, most recently, he led a team of investigative reporters and was also an editor on the newspaper's race team.
---
About
At Redeemer, we seek to love and serve our city, not ourselves. This includes not only those who don't believe as we do, but the poor, the immigrant, the marginalized, and the other.

In Colossians 3:12-15, Paul exhort believers to a deep and authentic unity. This is no general admonition to unity, but a specific admonition to unity where the natural barriers of race so clearly manifest themselves. Read in this way, this text brings home a powerful message to a church divided along the lines of race. The Gospel unites all of God's people, bringing them together into one Body, despite the divisions with which we live in a fallen world. When the gathered people of God reflect the power of the Gospel to transform all cultures and unite all peoples in the worship of their Creator and Savior, then the Gospel is powerfully represented and the Lord is greatly glorified.

We are a group within Redeemer who seek to embrace the Gospel call to redeemed relationships across ethnic/racial barriers. We do so by providing events and spaces for prayer, conversation, and the sharing of cultural goods across racial/ethnic lines.
— adapted from the PCA Pastoral Letter on Race, 2004
---
Connect with Hope for New York affiliates
—Defy Ventures provides opportunities for entrepreneurship, leadership, and career development to men and women with criminal histories.
—Exodus Transitional Community provides supportive services to formerly incarcerated men and women to help them reintegrate into their communities, achieve social and economic well-being, and break the cycle of recidivism.
—Open Hands Legal Services brings free legal services directly to community members at host non-profit organizations throughout the city.
---
Past Events

November 16-17, 2018 at the Ethical Culture Center 2 W. 64th St., New York, NY
Throughout the Bible, we learn that God is a God of justice, and that through the power of the gospel, Christians are called to live in ways that reflect this justice. In fact, scripture tells us that one of the most powerful ways that the church embodies the gospel is through the love and unity we demonstrate across economic, cultural and racial divides (Col 3:12-15). What does this look like in our fractured society? How can we stay hopeful when it seems we are more divided than ever?
SPOTLIGHT: An Evening with Sho Baraka and Propaganda on November 3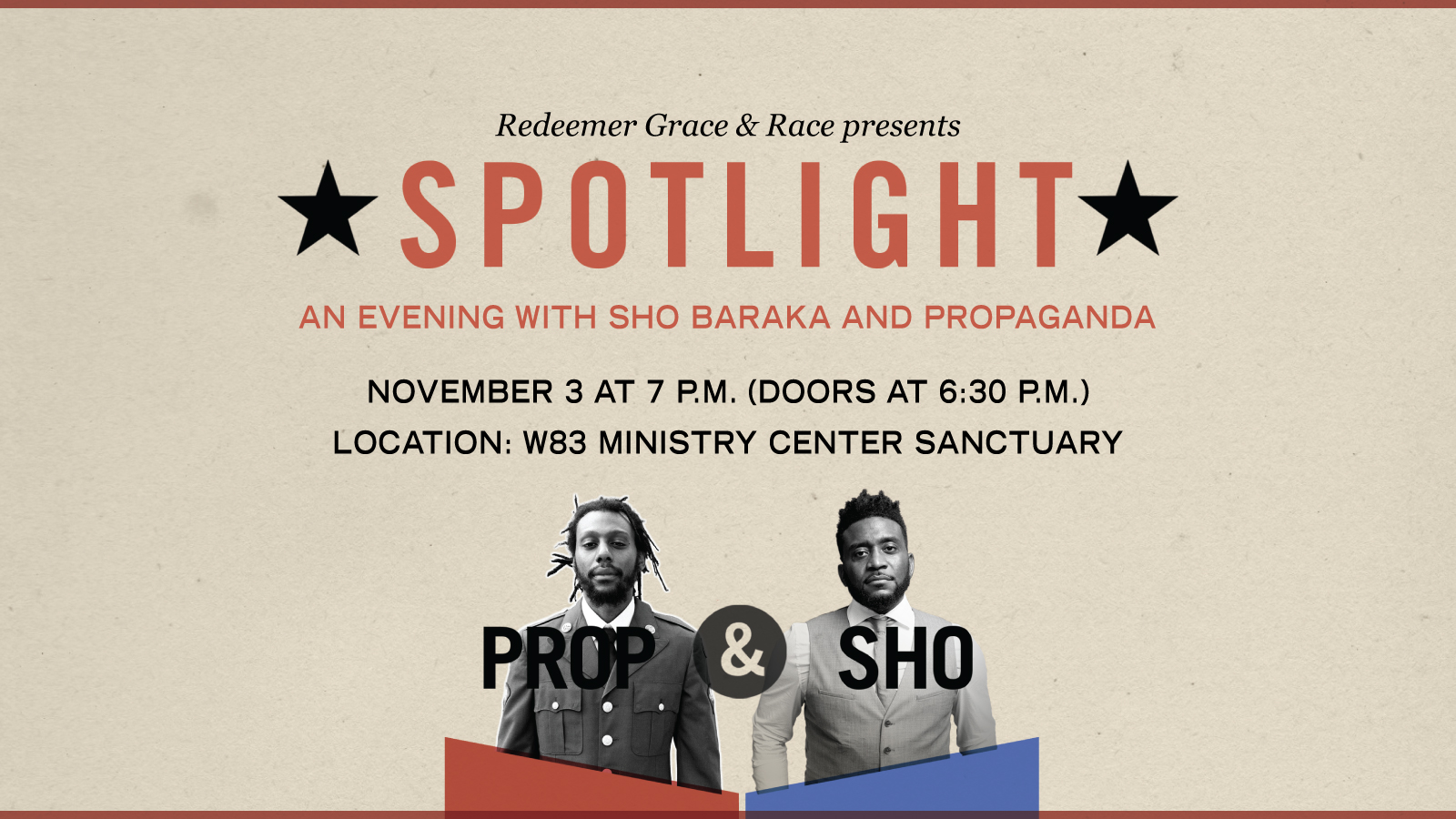 13th Documentary Screening & Panel Discussion on August 13, 2017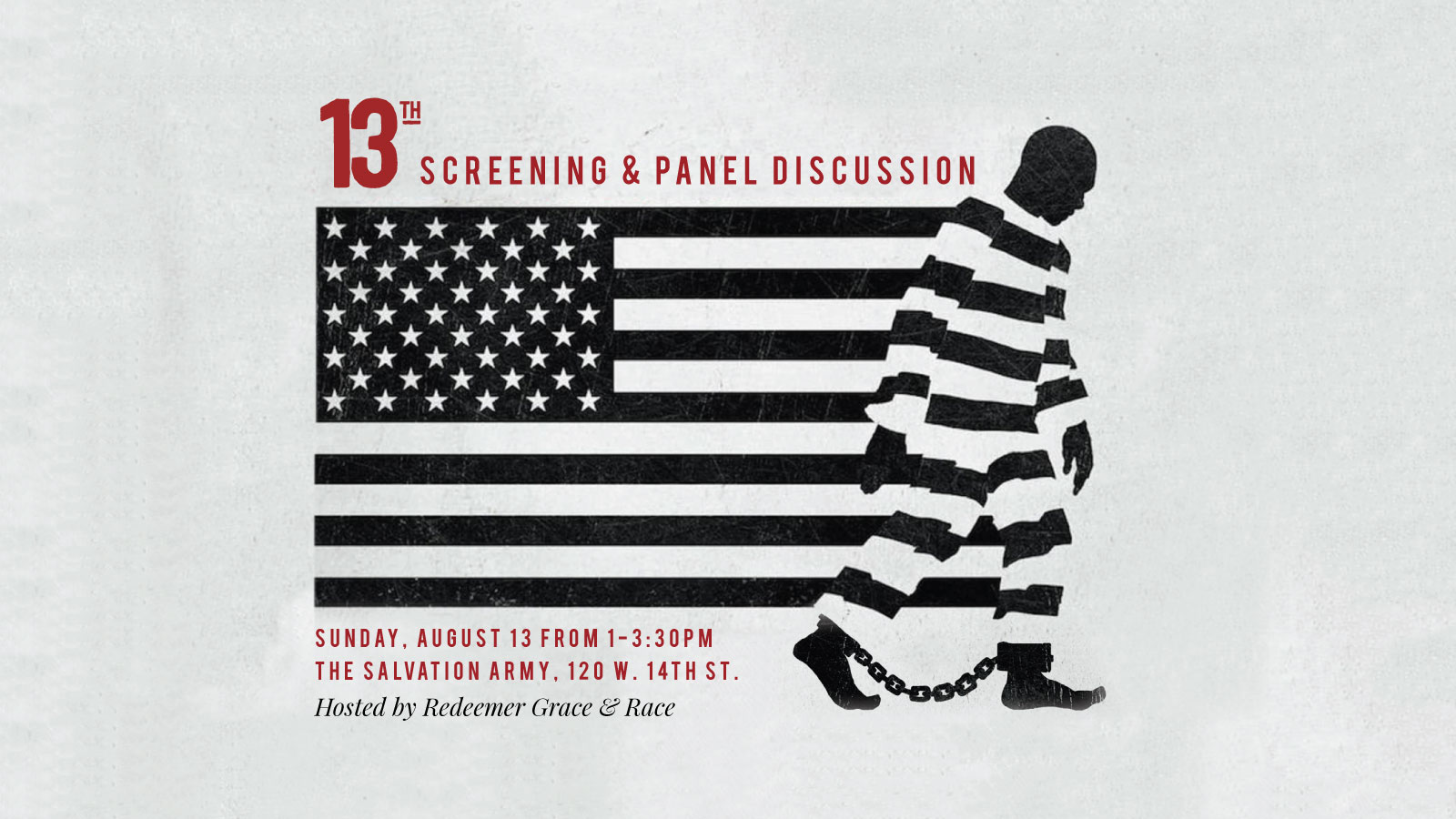 Workshop: What Racial Reconciliation Requires on January 12, 2017
Rich Villodas - Part 1
Rich Villodas - Part 2
Grace, Justice, & Mercy: An Evening with Bryan Stevenson & Tim Keller on May 21, 2016
Q&A with Bryan Stevenson & Rev. Tim Keller moderated by Pamela Brown-Peterside
—Hope after Prison workshop on June 8, 2016: Join Hope for New York affiliates (Defy Ventures, Exodus Transitional Community, and Open Hands Legal Services) for an exploration and discussion of the realities and challenges formerly incarcerated individuals face as they return to life after prison.
—"Life After Life in Prison" on June 15, 2016: Sara Bennett, a criminal defense attorney for thirty years, started photographing four of the women she met to give a face to "long-termers," each having spent 17-35 years in a New York State maximum security prison. Bennett's images give a glimpse of their dignity, patience and perseverance as they rebuild their lives in the face of societal hurdles. Reception June 15, 6:30 to 8:30 p.m. The exhibit runs through July 17.
Grace & Race: Why Race Matters to God and What That Means for Us
Watch Abe Cho's talk on Jan 14, 2016
City Walks
March 12
Hosted by Hope for New York affiliates and CTC church plants.
Did you know that Redeemer City to City and Hope for New York have over 100 affiliated church plants and nonprofits throughout the five boroughs? On these unique walking tours, you will hear their stories and process the history of a neighborhood, its brokenness, its beauty, and its systemic issues related to poverty and race together. This is primarily an opportunity to learn about a NYC neighborhood, but there will be ways to connect with what God is doing in the neighborhood through Redeemer's affiliates.
Co-sponsored by Redeemer City to City and Hope for New York.