Formed to Work for the Glory of God Conference

Overview | Presenters | Glimpses | Registration

FORMED TO WORK FOR THE GLORY OF GOD

We live in a city that's driven by ambition and desperate for rest. But the gospel responds with a critical question: to what end? The gospel uniquely gives us a radical new vision that our work is for the glory of God: the issue is not that we expect too much from our work, but that we have come to expect too little.
When we see that work is created to glorify God, our work doesn't necessarily get easier, but it does become more meaningful. The pain in our work is faced with greater honesty, where the brokenness can finally be named and seen. The unseen potential of our work is faced with greater imagination, where an innovative spirit can unleash what yearns to be resurrected. In short, when we discover that we're formed to work for God's glory, we find that our small tasks aren't so small, and our big tasks are in better hands. Work becomes desirable. Rest becomes possible. Faith becomes essential.
Join us for a two-day experience where we'll investigate how we are formed to work for the glory of God. Artists and educators, designers and technicians, homemakers, engineers, managers, entrepreneurs, doctors, and everyone in between are welcome. Speakers will include Tim Keller, Katherine Leary Alsdorf, David H. Kim, and Elizabeth Barlow Rogers, founder of the Central Park Conservancy, as well as over 20 Glimpse opportunities throughout NYC centered around work, culture and Sabbath.
CONFERENCE INCLUDES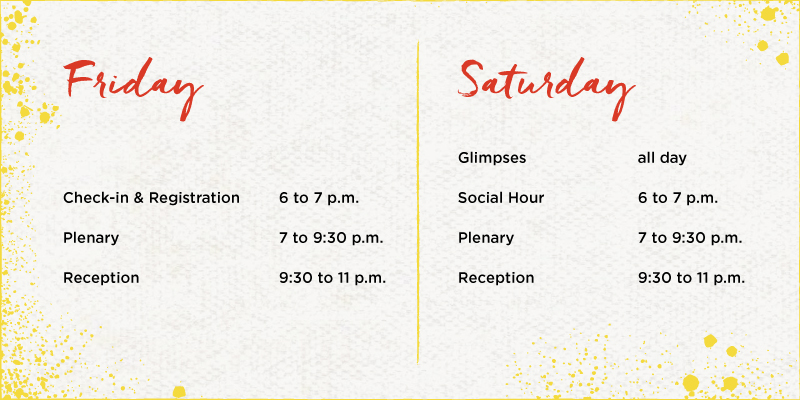 Saturday "Glimpses" (offered across a variety of timeframes throughout the morning and afternoon): Exciting opportunities throughout the city to participate in diverse experiences centered around work, culture and sabbath. Hosted by lay-leaders in the CFW community, these offerings are designed to point towards glimpses of God's glory in New York City. Glimpse sign-ups will be available for conference participants at a later date. (Depending on the offering, additional costs may apply.)
---
TIMOTHY KELLER

Timothy Keller is Chairman of Redeemer City to City and the founding pastor of Redeemer Presbyterian Church in Manhattan, which he started in 1989 with his wife, Kathy, and three young sons. For twenty-eight years he led Redeemer's diverse congregation of urban professionals that has grown into three churches (in 2017) with a combined weekly attendance of over 5,000.

Dr. Keller grew up in Pennsylvania and was educated at Bucknell University, Gordon-Conwell Theological Seminary and Westminster Theological Seminary. He previously served as the pastor of West Hopewell Presbyterian Church in Hopewell, Virginia, Associate Professor of Practical Theology at Westminster Theological Seminary, and Director of Mercy Ministries for the Presbyterian Church in America.

KATHERINE LEARY ALSDORF

Katherine founded Redeemer's Center for Faith & Work, serving as Executive Director from 2002 – 2012, and launching the Gotham Fellowship, Entrepreneurship Initiative, Arts Ministries, and vocation groups. Since that time she has consulted with other churches to help them start faith and work programs. Currently, she and her husband, John, are co-leading New City Fellows in Raleigh NC in partnership with Holy Trinity Anglican Church. She also teaches with the Made to Flourish network and Regent College.

From 1976-2002, Katherine served in leadership roles in the high tech industry in California, Luxembourg and New York. She was CEO of an online management education company, a hardware/software products company, and a satellite services company – all tech start ups with 100-120 employees. She earned her MBA at The Darden School at the University of Virginia and took seminary classes at Regent College.

She has served on the boards of Inter Varsity Christian Fellowship, International Arts Movement, her NYC coop board, and the Theology of Work project. In 2012 Christianity Today named Katherine one of their "50 Women You Should Know." Also in 2012, Katherine assisted Tim Keller in the writing of Every Good Endeavor: Connecting Your Work to God's Work.

DAVID H. KIM

David oversees all the ministries of the Center for Faith & Work as Executive Director and is the Vice President of Faith and Work at Redeemer City to City. Prior to this role, David served as the Director of the Gotham Fellowship, developing and teaching its intensive curriculum while providing spiritual direction. Prior to joining CFW in 2007, David was a Chaplain at Princeton University, where he also served as the Founder and Executive Director of Manna Christian Fellowship for over 12 years.

David received his B.A. from the University of Pennsylvania, his M.Div. from Westminster Theological Seminary, and his Th.M. from Princeton Theological Seminary, where his studies focused on the public theology of Abraham Kuyper. He has a D.Min. at Fuller Theological Seminary in the area of faith and culture. He's written a two devotional books: Glimpses of a Greater Glory: A Devotional through the Storyline of the Bible and The Lord's Prayer Devotional. He's also the author of 20 and Something: Have the Time of Your Life (and Figure it All Out Too) and is the general editor of the NIV Faith & Work Bible.

ELIZABETH BARLOW ROGERS

Elizabeth Barlow Rogers is the president of the Foundation for Landscape Studies. In 1979 she was appointed Central Park administrator and was instrumental in founding the Central Park Conservancy the following year. During her fifteen-year tenure as president of this pioneering public-private park partnership, she was instrumental in overseeing much of the park's renovation according to a Conservancy-sponsored management and restoration plan.

Rogers's published works include: The Forests and Wetlands of New York City (Boston: Little, Brown and Company, 1971); Frederick Law Olmsted's New York (Whitney Museum/Praeger, 1972); Rebuilding Central Park: A Management and Restoration Plan (The MIT Press, 1987); Landscape Design: A Cultural and Architectural History (Harry N. Abrams, Inc., 2001); Romantic Gardens: Nature, Art, and Landscape Design (Morgan Library and Museum and Foundation for Landscape Studies in association with David R. Godine, Publisher, 2010); Writing the Garden: A Literary Conversation Across Two Centuries (New York Society Library and Foundation for Landscape Studies in association with David R. Godine, Publisher, 2011); Green Metropolis: The Extraordinary Landscapes of New York City as Nature, History, and Design (Knopf, 2016); and Saving Central Park: A History and Memoir (Knopf, 2018).

Among the several awards Rogers has received are the New York Botanical Garden's Gold Medal, 2016; Green-Wood Historic Fund's Dewitt Clinton Award in Arts, Literature, Preservation and Historic Research, 2010; Rockefeller Foundation's Jane Jacob's Award, 2010; and the American Scenic and Historic Preservation Society's Cornelius Armory Pugsley Medal, 2007.
---
GLIMPSES

"Glimpses" are exciting opportunities throughout the city to participate in diverse experiences centered around work, culture and sabbath. Hosted by lay-leaders in the CFW community, these offerings are designed to point towards glimpses of God's glory in New York City. Glimpse sign-ups will be available for conference participants at a later date. (Depending on the offering, additional costs may apply.) Additional Glimpse opportunities announced soon!
GREAT GOTHAM CHALLENGE

In this thrilling urban scavenger hunt, you'll experience New York City as you never have before. Within teams, you'll work through city-centric challenges and puzzles and learn new things about the Big Apple along the way.
COMEDY SHOW

Join us for a stand-up comedy performance followed by an in-depth look into how the gospel intersects with the entertainment sector.
ALPHABET SCOOP

Have some ice cream and see this newly opened and highly lauded East Village shop that blends a great product with a powerful mission.
TOWN REAL ESTATE WORKSITE VISIT

Come visit one of the largest real estate firms in New York City, where we'll see how urban homes are found and made, and hear from a broker about the inner workings of the vast and complex NYC market.
FLOWER ARRANGING

Learn a simple and practical method for bringing God's beauty into your personal space. Together we'll learn a new restful hobby and the spiritual importance of fostering beauty in your daily life.
RUNNING TOUR OF CENTRAL PARK

How can running be a form of practicing rest? Come find out and run through a guided path with a group.
GOLDMAN SACHS TRADING FLOOR VISIT

Get an inside look at the excitement and energy of a trading floor. We'll also hear from a panel of finance industry employees to hear about the shifts, values, and complexities of the financial sphere.
TOUR OF LOWER MANHATTAN

With more than 400 years of history, come see the Lower Manhattan neighborhood where what once were cow paths and trading posts are now skyscraper lined streets.
A MOVING MEDITATION

In the beginning God breathed creation and the universe into existence. This glimpse is designed to expand the participants vision of experiencing the glory and presence of God through a physical workout. Connecting with our bodies and specifically our breath is one of the most sacred things we do. It connects us to our Creator--the one who gave and continues to give us each breath.
A SEASONALLY-INSPIRED LONG TABLE LUNCH

Share a meal with your fellow conference-goers and sneak a peak inside the Kitchen Studio of a Brooklyn-based special events company, The Pixie and the Scout. Engage in a Q&A with chefs Jonathan Hittinger and Katy McNulty about food and hospitality in a culturally divided time.
HIGHLINE, PENN STATION & HUDSON YARDS TOUR

A walking tour of the Highline, Hudson Yards, and Penn Station areas exploring how transportation infrastructure has impacted the neighborhood (past, present & future). Join our tour guide to see how policy, zoning, creativity, economic conditions and time have collided to bring about some of the largest and most transformative development projects in the history of the city.
ART STUDIO VISIT

Visit the art studio of Liz Beard and two other visual artists to get an inside look at the inspiration and process of their work.
TAP DANCING

Journey with Andrew Nemr through the oral tradition of tap dance. Participants will trace its lineage back from Fred Astaire to the roots of percussive dance as a physical expression. Hear Andrew's personal story of being mentored by Gregory Hines, and learn to embody the experience with a short tap dance lesson!
AN INSIDE LOOK AT NYC PUBLIC SCHOOLS

75,000 teachers serve 1.1 million students across our city every day. The challenges are pervasive, the glories often unsung. Come and hear about the vision and work of NYC's Department of Education as it supports the work of nurturing the next generation.
DENTSU AEGIS WORKSITE VISIT

Visit the creative offices of marketing firm Dentsu Aegis to see their approach to building brands through innovative new capabilities in media, digital and creative communications services.
FOOD TOUR OF OLD & NEW NYC

Grab your most comfortable walk shoes, bring your appetite, a MetroCard & some cash (some spots don't accept cards) as we explore the food scene of old & new NYC through a local's perspective. @HungryEditor will show you some of the most delicious sweet as well as savory bites in town. Fair warning...gluten, dairy & meat will most likely be present, but not necessarily all at the same time. This will be an interactive tour, so feel free to engage in conversation & come hungry!
WRITING SESSION

Join us for a dynamic hour of quiet reflection and writing where we'll cultivate awareness and discover how creativity can usher us into deep rest.
CREATING SPACE TO LOVE & SERVE OUR NEIGHBORS

What does it look like for an institution to love our neighbors faithfully as a utility for the public good? Come see and hear the vision for W83 to be a space for the city, and how the Christian faith speaks into how we intentionally create space for neighbors.
GUIDED READING EXPERIENCE IN THE PARK

This practice is for those of you who long for more time to read and enjoy the surprising "quiet" NYC has to offer. It will start with 45 minutes of reading from E.B. White's "Here is New York," specifically focusing on Sunday mornings in the city in the summer of 1948. After time for reading we will stroll through some quiet "nooks" in Midtown and Central Park to notice where we might still find places of rest in this bustling city, as described by White. We will conclude our walk with prayerful group reflection comparing White's New York to our own near the reservoir in Central Park.
LINKEDIN OFFICE TOUR

Tour the NYC offices of LinkedIn and learn about how their culture and values are bringing redemption back to the workplace.
---
REGISTRATION
APRIL 13- APRIL 14
REDEEMER CONGREGANTS
$50 until March 12, 2018
$75 until April 2, 2018
$100 until April 11, 2018

NON-REDEEMER CONGREGANTS
$225 until March 12, 2018
$250 until April 2, 2018
$275 until April 11, 2018
Cancellation Policy: Full refunds will be issued until March 14, 2018. Refunds of 50% of the registration fee will be offered between March 15-April 3, 2018. After April 4th, no refunds will be issued though we will permit you to arrange a transfer of your registration to another attendee or donate your unused seat before registration closes on April 11, 2018. To request a cancellation please contact [email protected].


Registration
---
VENUE
Redeemer W83 Ministry Center
150 West 83rd Street
(Between Columbus and Amsterdam Avenues)
New York, NY 10024
---
April 13-15, 2018
Formed to Work for God's Glory (presented by the Center for Faith & Work)
This is the third of three marquee events which bring together all Redeemer congregations and ministries to focus on formation, practices, and callings. They include teaching, worship, Glimpses, and practical tools to help foster spiritual growth as followers of Christ.
Past Conferences
November 17-18, 2017
Formed By the Gospel (featuring teaching by Tim Keller)
In this two-day special event, pastor Tim Keller taught how a Christian identity could be understood, embodied, and galvanized to serve those around us. We also explored the alternative, often hidden identities that may be shaping our lives. We learned how grace enables radical forgiveness and immense trust, and how Christ's work is one that reorders what we love and deepens who we are. The conference also included a panel discussion with Pastor Keller.
February 16-17, 2018
Public Faith Conference: Formed to Share our Hope in Christ
In the pluralistic culture we live in, what does it look like to share our faith? In our current day, some of us might be finding it harder and harder to know how to dialogue and share our faith with the relationships in our lives. The Public Faith Conference provided a unique opportunity to learn how to better engage, listen and share our hope in Christ with our friends, family and co-workers. Speakers included: Tim Keller, Sam Allberry (Ravi Zacharias International Ministries), Michael Ramsden (RZIM), and Jo Vitale (RZIM).
---