Campaign initiatives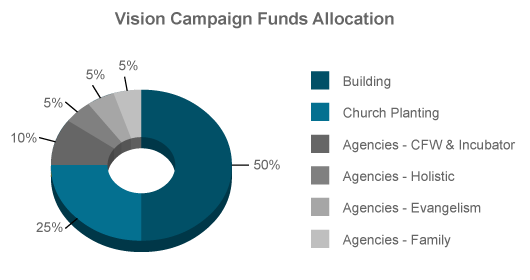 This campaign will ignite three initiatives that form the next stage in our progress toward the vision:
1. Strengthen Redeemer by developing community centers with worship space.
Funds allocated: 50%
Our worship and ministry space faces three challenges:
Stability: Every two to three years, Redeemer's rented worship space is at risk. To secure space for the long term, we believe ownership is the most practical option.
Flexibility: As Redeemer grows and needs change, Sunday operations become more complex. Holding mid-week worship and large-scale meetings at alternate sites is not cost-effective.
Connectivity: Redeemer has the opportunity to be a visible member of the community and serve our neighbors on a local, practical level with space that is available 24/7.
2. Reach more people by multiplying our church-planting.
Funds allocated: 25%
Research shows that the best way to reach unchurched people is to start new churches.
Our vision is to create hundreds of new churches in New York City by training and resourcing church planters and building alliances with other gospel-centered churches in the city.
Since its creation in 1998, the Redeemer Church Planting Center has helped plant more than 85 new churches around the world, including 50 in the New York City area. As inspiring as the Center's work has been, we want to increase its capacity to plant another 500 churches in the next 25 years.
Increasing our rate of church planting will enable us to reach more people with the gospel of Jesus Christ.
3. Build our communities by launching new ministries.
Funds allocated: 25%
We want to help Christians build community in the city long-term by supporting them with services and training. Current initiatives and future plans include specific ministries for:
Families
Singles
Artists
The poor
Entrepreneurs
It is our desire to enable all people to live out the gospel and manifest its values in all they do.
The new ministries we launch will support Redeemer in invaluable ways. Eventually, they will also support our daughter and partner churches around the city, supporting a true movement of the gospel in New York.
---